Welcome to Ty'n-Y-Gwynt
We moved here 8 years ago - best move of our life.
We converted the family home that was, into a very successful bed and breakfast by putting new bathrooms in all the rooms, new decor and new beds.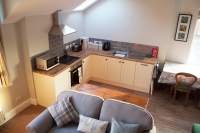 Now 7 years on we have decided that we need more time and less work so we have had 2 of the bathrooms taken out and replaced with modern well-equipped kitchens.
A couple of walls and doors removed and turned it into, what we think, are two very comfortable self-contained apartments.
Having said that, my garden was chosen to be part of the Criccieth festival open gardens last year and I had very good reports from the visitors.
We have found the local people very welcoming and helpful and we take part in a lot of local activities.
We now live downstairs with my two Welsh collies, so any questions and I am usually around to help.
The work was all undertaken by local joiners, plumbers, electricians, painters and plasterers, (We just designed it all) and we have been very pleased with the outcome.
The garden is still an on-going project as, like the name of the house Ty'n y gwynt – house in the wind – implies it is often windy here and trying to find plants that will survive the salt and wind is not easy
We still have a lot of places that we would like to visit around Snowdonia but we are working my our through them as and we when we have time. It is a wonderful area and we think our house is in an ideal situation for people to be able to come and have as relaxing or as active a holiday as they want.
We look forward to seeing you soon
Sally